CLN Board of Directors
On September 28th, 2022 at Community Learning Network's Annual General Meeting online, elections were held for our Board of Directors. The Board is made up of 6 to 9 volunteer representatives from our membership, from over 80 Community Adult Learning Programs across Alberta. The CLN Board of Directors for 2022-2023 is as follows:
Colleen Thiessen, Chair

I am a proud Albertan with rural roots in Central Alberta. I was raised on a mixed farm south west of Ponoka until age eleven, when my family moved south to Calgary.
Upon graduating from high school, I attended the University of Calgary, graduating in 1993 with a Bachelor of Arts degree majoring in English.
My career path has been an adventure including success in telecommunications and advertising sales, classroom experience in public schools and an ESL contract in South Korea.


Stephanie Brown, Treasurer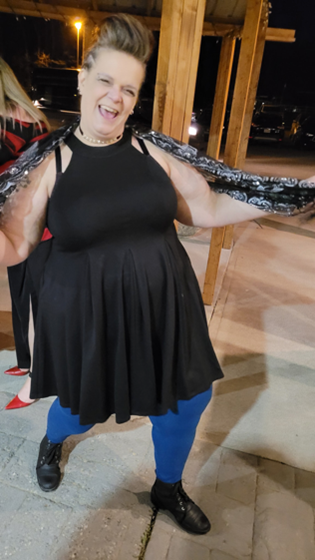 When I was a child, I despised school.  I was always getting into trouble and sitting in the hallway for  'acting out'.  I longed to be outside or partaking in any activity that didn't require me being quiet and sitting still for any length of time.  School just didn't work for me, and I ended up 'dropping out' at the age of 16.  With the help of my brother, I was able to obtain my GED at the age of 19.
Fast forward roughly 15 years… I was working in the Service industry, and wasn't loving it anymore.  I knew it was time for growth.  I had a friend recommend that I take Office Administration though Lakeland College.  I remember having to work myself up to the task of applying.  Being out of school for so long, I didn't feel I had the skills required to enter back into a school system.  I entered the program as a mature student and worked an extra 6 months to finish the program.  This led me to a new realization… I love to learn! 
Many new learning experiences have taken place for me since.  In 2009, I 'went back to school' to obtain my upgrading with NorQuest College.  I couldn't believe how much my mind expanded with all the learning… I actually learned to LOVE Math! 
This led me to where I am today.  I started with Hinton Adult Learning as a tutor for Math, which has evolved into an Essential Skills Coach/GED Coordinator position over the 9 years that I have been with CALP.  Having access to continuous Professional Development with CLN has developed my skills as an Adult Learner, which helps me to provide better for my community with Adult Learning.  I am a firm advocate for lifelong learning… with learning, comes growth in all aspects of our lives.  I choose to see obstacles as a chance for growth to occur.
Cindy Heidecker, Secretary 

2021 marks my 10th year with PCALC. The first 7 years I occupied the role of Program Coordinator and then moved into the position of Program Manager. I am a Commerce graduate and am currently taking Masters in Distance Education courses. 
Adult learning has provided me the wonderful opportunity to grow and watch others flourish as they learn. I continue to support community development by volunteering for a variety of youth and cultural organizations. Travelling provides another outlet for me to learn and spend time with family and friends. 
I have met many inspirational leaders through the CLN and would be honored to be a part of supporting lifelong learning across Alberta to ensure there are opportunities for everyone to learn something new every day.
Rochelle Galeski, Director

I live in beautiful southern Alberta but was born and raised on the Manitoba prairies. My career has been spent working with vulnerable populations in the city of Brooks, AB. 
I have worked for Adult Basic Literacy Education Medicine Hat College Brooks for 4 years. I am passionate about sharing my knowledge of trauma informed care and have spent the last 7 years learning about trauma and how it impacts our ability to learn. 
The greatest gift in my career is that I learn as much from my learners as they do from me. Learners' stories of resilience, courage and fortitude have impacted me both personally and professionally.
I hope to continue to learn, actively listen and share the collective knowledge of adult foundational literacy learning through my potential board presence. 
Chelsey Friedt, Director 

Chelsey lives in Peace River, Alberta but was born and raised in south-eastern Saskatchewan. She likes reading, snowboarding, singing, and spending time with her family. After working in various fields, for over 15 years, she joined Vision Learning Centre
in 2020. She finds that all of the positions leading up to her current role as Executive Director, have given her the skills she needs to succeed. Chelsey is passionate about the students that come into the centre. She enjoys finding
opportunities to help students learn in new ways and have fun while doing so. She also enjoys continuing to learn as an adult herself and can often be found nose deep in a book taking notes.
Tanya Mercredi, Director & Governance Committee

I am nearing my five-year anniversary of being part of CALP! As a Coordinator with Ponoka & Rimbey Adult Learning, I have served both communities and am grateful to be part of a grassroots organization that serves people in such an impactful way. 
A country girl at heart, I can most often be found caring for animals on the farm I work with my husband.
In my CALP role, I have served as a member of the Professional Development Advisory Committee and took part in a focus group working with Advanced Education on developing the CALP Logic Model and Outcomes Measurement Framework. I pride myself on building strong relationships with Learners, Volunteers, Co-workers and the community at large and look forward to contributing to the Community Learning Network Board.
 Melanie Patenaude, Director & Governance Committee

I moved to Alberta in 2004 after living in Ontario, British Columbia and Quebec. When I'm not at work, I enjoy travelling, skiing, baking, knitting and playing board games with my family.
I have been in the CALP world since 2012 and am currently the Coordinator for the County of Lethbridge Community Learning Council. I thoroughly enjoy working in the Adult Learning world, I love the connections made with learners, instructors, board members and the laughs I share with my coworker in the office.
I am looking forward to working with and learning from the CLN Board. 
To contact the CLN Board of Directors please email board@calp.ca.