CALP Connections
CALP Connections: March 2019
Welcome to March everyone!
Let's hope that L.M. Montgomery's beautiful description of the coming of March rings true for us.
"March came in that winter like the meekest and mildest of lambs, bringing days that were crisp and golden and tingling, each followed by a frosty pink twilight which gradually lost itself in an elfland of moonshine." - Anne of the Island, by Lucy Maud Montgomery.
March is a busy and exciting time for all programs across the province. Serving on the CLN Board provides members with opportunities to look beyond their immediate program and gain a picture of CALPs across the province. Being part of the Community Learning Network team, we contribute in different ways to shaping the various supports that CALPs receive. This extensive, responsive support includes the provincial Regional Support Network, which includes PD, training and support for CALPs from our partners at Rural Routes, NorQuest College, Calgary Learns and ECALA, the annual Literacy and Learning Symposium, and soon, Spring Regional Meetings. It is so rewarding to see how all of these resources increase the capacity of the CALPs, for the benefit of the learners.
Following is an example from the Read On Adult Literacy and Learning Program, of how learner needs become requests for training for CALP practitioners, and how this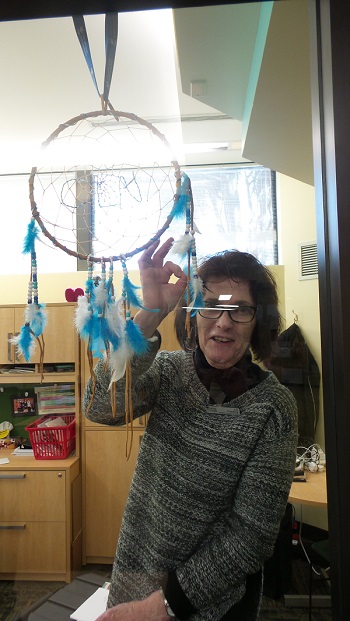 specific training (Tech Talk) is now benefitting learners. Being able to use different devices, be it a tablet, iPad, smartphone, etc., has been increasingly identified as a learner need in many programs. Now thanks to Tech Talk training, Read On has used strategies to develop specific classes. In partnership with Lethbridge Family Services – Immigrant Services. Read On has developed the Women's ESL Technology Class for a group of newcomer ladies. This supplements their Language Instruction for Newcomers to Canada (LINC) classes. With the assistance of translators, these keen, enthusiastic ladies from Eritrea, Sudan, Nepal, and the Democratic Republic of the Congo are acquiring the digital literacy skills and experiences that they will need for everyday life activities and future employment.
Serving in my second term on the CLN Board is so rewarding, and I encourage others to join us. Our diversity is our strength, and we thrive on all the ideas board members bring. We are passionate about the work we do! At our upcoming Regional Meetings you will have the opportunity to meet CLN board members and staff. Be sure to ask any questions you may have, including questions about serving as a CLN board member.
Lil Radley
CLN Board of Directors
CALP Connections: February 2019
Welcome to February!
Last month the CLN Board and Staff came together in Edmonton for a day of celebration, professional development and visioning. We celebrated with a team building experience by cooking Thai Food (of course we got to eat our creations) and having a Christmas Gift Exchange.
Have you, our CALP Membership, seen the variety of different personalities among the CLN Board and Staff Teams? This diversity adds to the hilarity of a gift exchange that includes being able to steal from each other, and seeing which of the heartfelt gifts were to be fought over until the bitter end.
Our professional development and team building assignment had a "Then, Now, Next" theme stemming from reflections on our growth in the past five years. Here is a short excerpt from our assignment:
Then (2013 – 2014):
Number of Community Adult Learning Council Members: 82
CLN Board restructures staffing at CLN

Director (Full-time)
Communications Specialist (Full-time)
Admin Staff (15 hours/week)
Finance Contract (5 hours/week)

Budget: AE funding: $292,353 + $65,000 for Culture of Collaboration grant (year 2)
7 Regional Resource Leaders (5-15 hours/month)
Now (2018-2019):
Number of Community Adult Learning Program Members: 101
CLN Staff: 10 full-time and 2 part-time

Executive Director
Training Manager
Communications Specialist
Events Specialist
Indigenous Liaison
Program Support
Financial Coordinator
Regional Support Staff (North, East, West, Central and South)

Budget: AE (Delivery Stream) Grant: $1,252,000 + AE (Development Stream) Grant: $345,000 (2018-2020)
Next (2025 only six years away):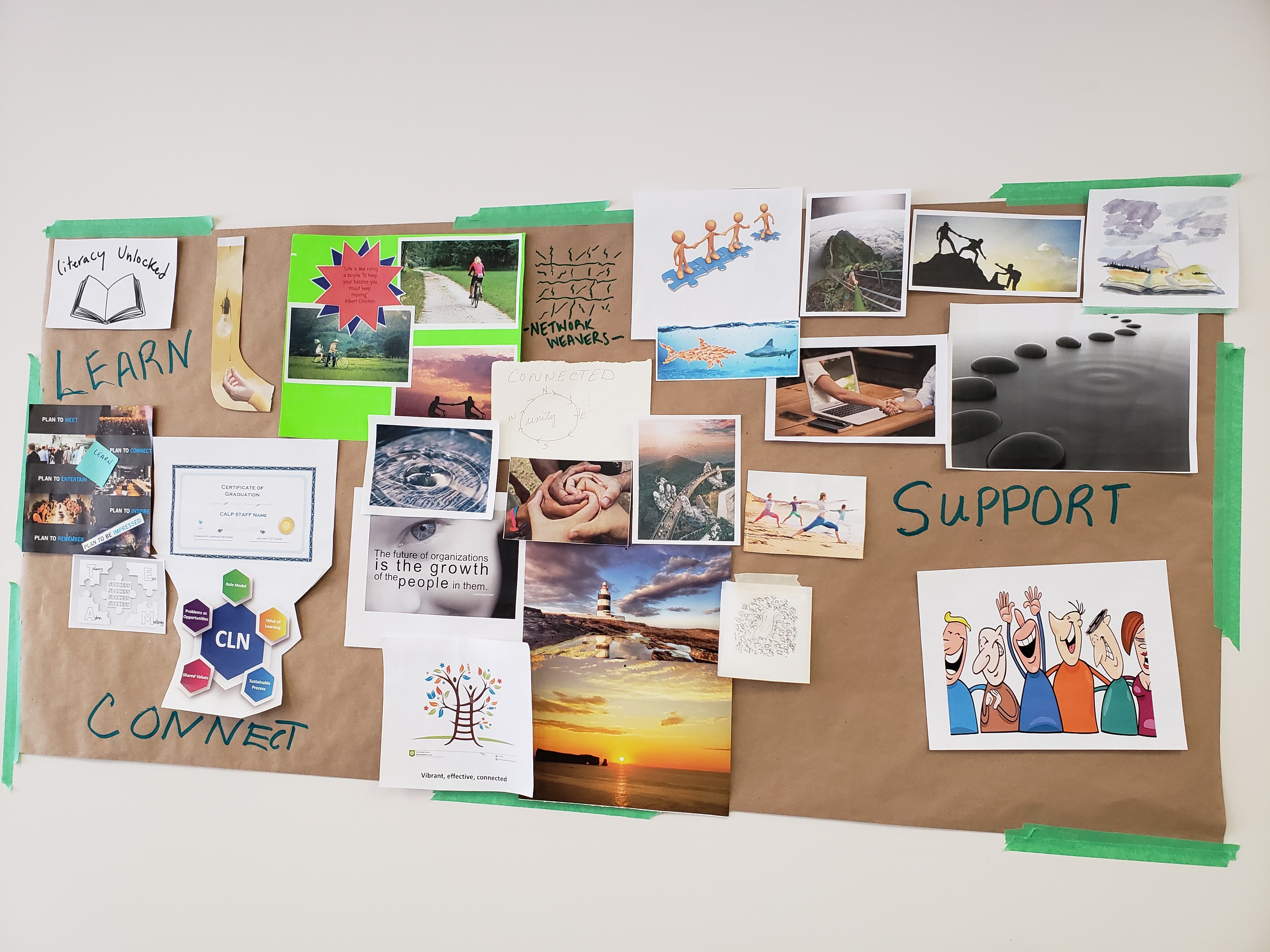 I am not going to define what this vision board means. It holds a different meaning to everyone but I think every person in the room was amazed to see that, despite our multitude of backgrounds, we have common goals, values and desired outcomes. As you, our members and system partners, view this vision board, I hope each of you feel empowered and enticed to add to it. The vision board will be awaiting your arrival at the September 2019 Symposium where each of you will be able to add your own images and words.
The diversity of the CLN team is representative of our entire CALP system (much like our own communities). Every person has a different background; rural/urban, cultural, years of experience, professional field such as family literacy, adult literacy, some have children, some don't. Our individual stories are so varied but we all come together with the same purpose and vision: to lead a visionary network of learning communities, where Community Adult Learning Programs are the hub for adult learning in every community.
Jana Thomson
Vice Chair, CLN Board of Directors
CALP Connections: January 2019
Happy 2019!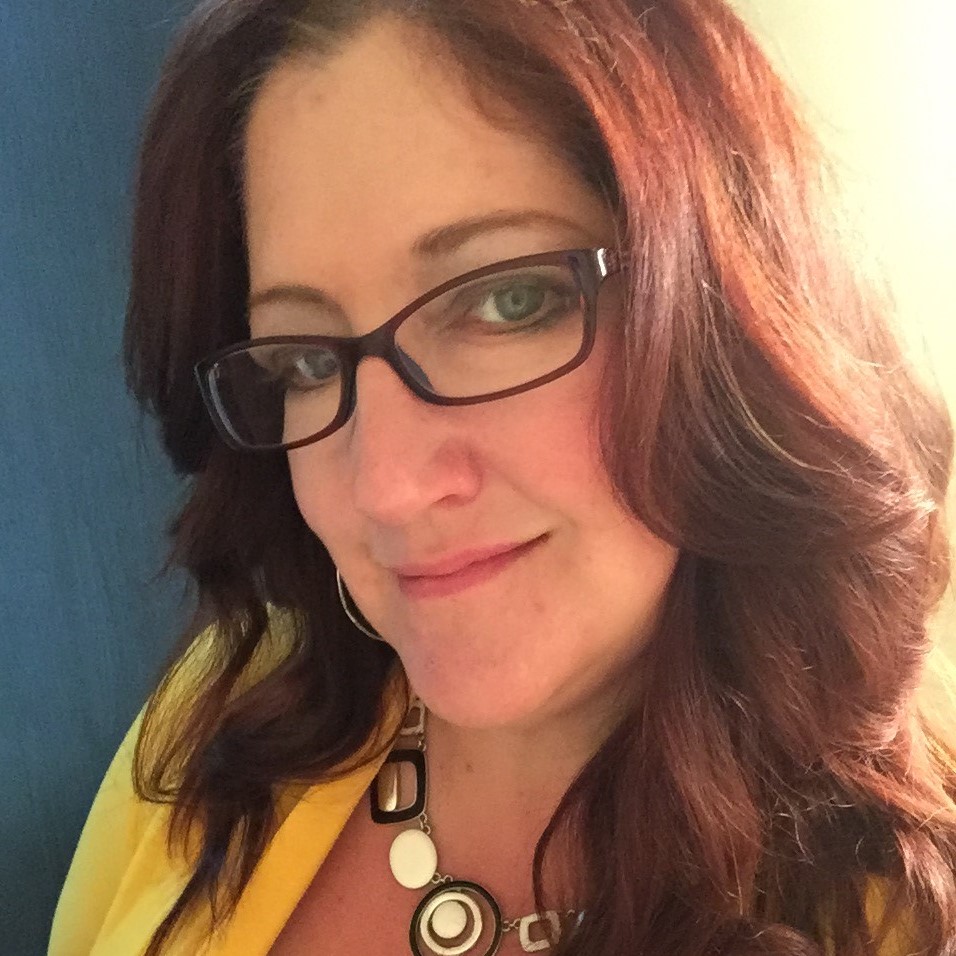 2018 saw many successes province-wide in our Community Adult Learning Programs; and I can tell by the wide-spread enthusiasm and passion for our programs that 2019 will bring many more! Whether your program is big or small, every day you play an integral role in shaping the lives of Albertans by running programs that increase literacy skills, opening doors that a learner may not have thought was possible.
While we have challenges every day in our programs, let us remember to celebrate our successes. Take a moment to reflect on how many new learners you have in your program. What goals have they accomplished for themselves? How has your organization adapted to learner needs?
Then, take a moment to acknowledge the investment you have made in yourself as an adult learner to acquire the skills needed to perform the role of a literacy practitioner. While great weight is on your shoulders to succeed, the number of hours often exceeding the number available, you have thrived in balancing helping learners while being a learner yourself. This level of dedication comes from the desire and passion to see others succeed.
Thank you for your commitment to the Community Adult Learning Program.
I wish everyone success in 2019. I am extremely thankful to have such a great group of people to work with province-wide. It is my honour to serve on the CLN board and I am looking forward to seeing everyone at training throughout the year. All the best in 2019!
Jackie Seely
Treasurer, CLN Board of Directors