< Back to All Decoding Strategies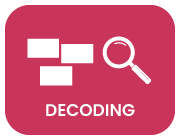 Phonics
How:
Determine what the learner already knows about phonics
Look for phonics gaps
Focus on what the learner needs to know
Teach phonics in order 
Purpose:
Phonics is the relationship between sounds and the letters used to represent those sounds. Phonics instruction helps learners attach sounds to letters and/or combinations of letters. 
---

Sequence Instruction: 
Rising to the Reading Challenges of Adult Learners: Practitioner's Toolkit Appendix C 
https://www.canlearnsociety.ca/wp-content/uploads/2019/04/RRCAL-Toolkit-FINAL-2017.pdf
Focus on sounds with which a learner is having difficulty, rather than teaching something the learner already knows. Going from easiest to hardest teach phonics in the followng order:
initial consonants
final consonants
short vowels
consonant blends (bl, fr, gr, spr)
long vowel sound
consonant digraph, in other words, two consonants but one sound (th, sh ch, ng,ck)
vowel digraph, in other words two vowels but one sound (ea, oa, ee, ai)
diphthongs, in other words, two vowels and two sounds (oi-oil, oy –boy)
soft c and g (city, giant)
silent letters (knife, write)
vowels controlled by r, l and w (car, fawn).


Adapted from Martin, M. (1999). Phonics sequence. Red Deer, Alberta. Training material.
Excerpted from Creating Learning Partners Unit 6 Reading Handout 6.3
https://calp.ca/resources/creating-learning-partners-unit-6-reading.htm
Teach consonants first. Did you know? A sentence without vowels is easier to read than a sentence without consonants. Focus on the sounds within words rather than on the sounds in isolation. 
Th_  q_ _ck  br_wn  f_x  j_mps  _v_r  th_  l_z_  d_g
_ _e  _ui_ _  _ _ o_ _  _o_  _u_ _ _  o_e_  _ _e  _a_y  _o_
Practice:
Nonsense words are a great way to assess a learner's ability to read phonetically. [add page CLP Overhead 6.4 Unit 6 Reading]
You and the learner can think of words that begin with that sound/that letter (bear, beer, bottle, bathtub...). You can write out the words, perhaps highlighting
the B in each word. You can take alphabet cards and spell each word out using the uppercase and lowercase letters. You can make up a silly sentence using the words:
The bear was drinking a bottle of beer in the bathtub. Have fun with it. 
https://centreforfoundationallearning.files.wordpress.com/2015/04/anwsers-may-vary-guidebook.pdf