Alberta Law Protects Your Rights
Alberta has a law about human rights. It is the Human Rights, Citizenship and Multiculturalism Act. This law helps to protect you from discrimination.
The Act protects you from discrimination in 5 areas. For example: employment.

The Act also has 13 grounds. People cannot discriminate against you on these grounds. For example: your religious beliefs.

Alberta Human Rights and Citizenship Commission
The Commission can give you free information about the Act. The Commission can help you if you are discriminated against.
You can talk to a human rights officer at the Commission. You can tell your story to the officer. Then you can decide what to do. You might make a complaint.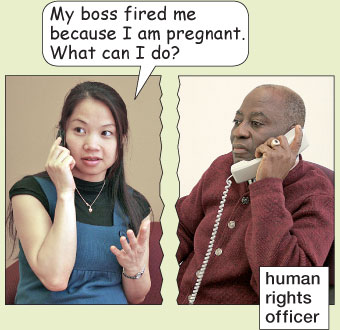 You will read more about the Commission under "Questions and answers" and "How to make a complaint."