Learning after High School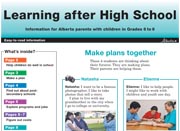 What's inside?
Helping children do well in school
Making a plan
Finding out about post-secondary schools
Exploring programs and jobs
Figuring out costs
Getting help and information
You can:
How to order copies:
Schools, libraries and agencies in Alberta can order free copies from the ALIS website. Go to alis.alberta.ca/publications. In the search box, type Learning after High School.

Updated October 2010
Funded by Alberta Advanced Education and Technology